Our Mission
Our passion is to provide your family with trusted, experienced orthodontic care for a lifetime of beautiful smiles.
We will provide high-quality, friendly, family-oriented service in a caring and fun environment.
The core and heart of our practice is the patient, and we will treat them with dignity, respect, and compassion at all times.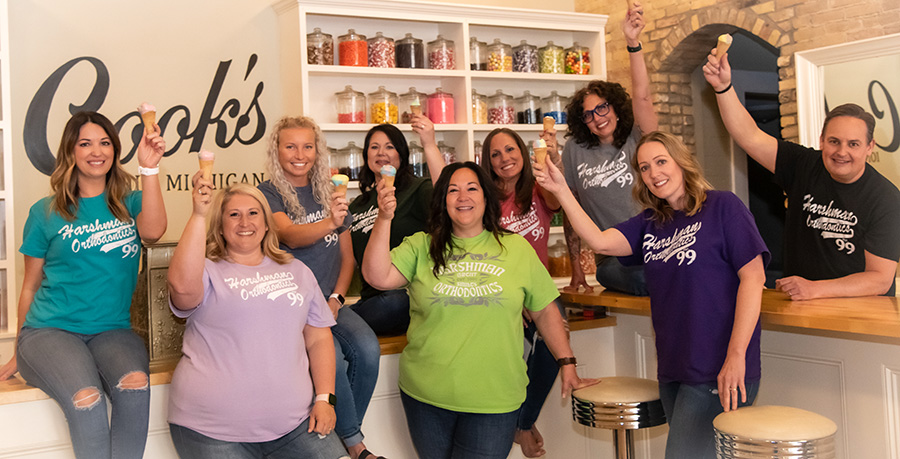 Creating A Lifetime of Beautiful Smiles – One Person at a Time!
For Dr. Travis Q. Harshman and our team, orthodontics is more than straightening teeth. It is how we serve our community: improving oral health, increasing self-esteem, and creating one-of-a-kind smiles for our friends and neighbors!
Orthodontics for All Ages
Today's advanced orthodontic techniques enable Dr. Harshman to change smiles for children, teens, and adults. He uses leading-edge technologies and processes to shift each person's teeth gently, correcting their bite and delivering aesthetically pleasing, confident, and healthy smiles that last a lifetime.
For Adults – We are pleased to provide several effective and comfortable treatment options that cater to a parent's or working adult's concerns. Rather than a mouthful of metal braces, Dr. Harshman offers clear (translucent) brackets, including clear self-ligating braces. He also offers 3M™ Clarity™ aligners, a fully customized process that is virtually invisible and delivers stunning results!
For Children and Teens – When it comes to your child's teeth, we understand you want trusted, experienced care that will translate to a lifetime of healthy, beautiful smiles. Dr. Harshman will work with you to design treatment that transforms your son or daughter's oral health and smile, using advanced materials and techniques. By involving you in the process, we form a partnership that supports and motivates your child throughout his or her treatment!
Beyond Aesthetics
Although a radiant, wonderful smile is the most visible result of orthodontic care, there are additional benefits to treatment.
Correctly aligned teeth improve the bite and decrease strain on the jaw joints as well as facial and neck muscles. Likewise, properly positioned teeth are much easier to brush and floss thoroughly, which lessens the likelihood of periodontal disease and other dental health issues.
Of course, straightened teeth are also attractive, bolstering a person's self-image and giving them greater confidence, too. When treatment is finished, our patients have improved oral health, stronger self-esteem, and radiant smiles they'll enjoy for life!
Schedule a Complimentary Consultation
If you're considering orthodontic treatment for yourself or your child, Dr. Harshman and our team would like to meet with you. No pressure, no obligation, no sales pitch, no fee, we promise! Instead, an honest conversation about your smile goals and how we can help make your most amazing smile a reality!
Please contact our Ionia, MI orthodontic office and schedule your smile consultation today!