We recognize that all our patients are unique and deserve to receive orthodontic care that reflects their individual needs. Our experienced and talented team is committed to working with you and your family to create a comfortable, stress-free, and rewarding orthodontic experience every time you visit our practice.
We are pleased to welcome you and your family, and we look forward to working with you.
---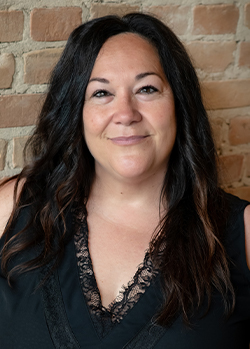 Heather
If anyone knows this office like the back of their hand, it is Heather, our Insurance Coordinator. Heather has been a loyal team member at our office for more than 15 years. Her funny, playful personality is a joy to be around. She really enjoys watching our patients' confidence grow as their smile changes over the years. Heather has built many friendships with her coworkers and takes pride in their relationships.
She is married and has two children and a dog. When she is not at the office Heather loves to read, take pictures, play tennis, and be out in nature. She has a passion for volunteering and spends her free time at IM Kids 3rds Meal volunteering.
---
Shannda
Shannda has been a Clinical Assistant in the dental field for more than three decades. She has previously worked for Dr. Harshman and recently rejoined our team as our Office Manager. Shannda's spunky and upbeat personality brings fun and laughter to our days.
Shannda has a passion for volunteering and helping others. She has a daughter and the most handsome puppy named Kevin. In her spare time, you can find her hiking, camping, and enjoying everything outdoors.
---
Haley
Haley is our Records Coordinator. She will take your X-rays and photos at your new patient exam. She has been working for Dr. Harshman for more than 15 years. If you hear someone singing in the office, it is usually Haley. She loves the patient interactions and, of course, seeing that beautiful smile at the end when she delivers your retainers.
Haley is married and has two children and two dogs. She loves bowling and hanging out with family and friends.
---
Sara
Sara has been a Registered Dental Assistant for a decade and a half, and has been sharing her skills at our office for half of that span. Her witty, open-minded personality is a joy to be around. Sara enjoys all aspects of her job and really enjoys the transformation of a beautiful smile from start to finish. She loves that it feels like she is with family while she is at work with her coworkers.
Sara is married and has two children and two dogs. Her passion to care for others shines when she is volunteering at IM Kids 3rd Meal and spending time with family and friends.
---
Amy
Amy is a rockstar Clinical Assistant who has been working in the field for more than 20 years. Amy really enjoys helping Dr. Harshman during procedures and is extraordinary at giving patients the proper instructions needed to care for their braces and appliances. Seeing patients at the end of treatment with big beautiful smiles is another reason she loves her job.
Amy likes to have fun at work and carries this with her outside of work while camping outdoors and spending time with her family. She is married to her husband and has two children and a dog.